Algarve Villa Rentals 2023/2024

Almost a hundred miles of marvellous golden sandy beaches washed by the blue Atlantic, fantastic yellow rocky outcrops, deserted little coves and delightful fishing villages make the Algarve a holiday paradise.
The Algarve is a popular destination for UK holidaymakers. The Algarve's climate with sunshine year round tempered by gentle breezes make it ideal for playing a round of golf and participating in watersports including deep sea fishing. There are alternatives to this such as shopping in quaint shops and boutiques, sampling some of the traditional Portuguese dishes and visits to its many ports, harbours and marinas dotted along it's coastline.
With its sizzling climate and Blue Flag beaches delivered by the bucket load, the Algarve has become a firm favourite with holidaymakers. Throw in lively resorts and unlimited leisure facilities and you've got a holiday perfect just for two...
Teeming with tranquil golf resorts, beaming with Blue Flag beaches as well as a sensational climate, why not let summer take you to the Algarve this year?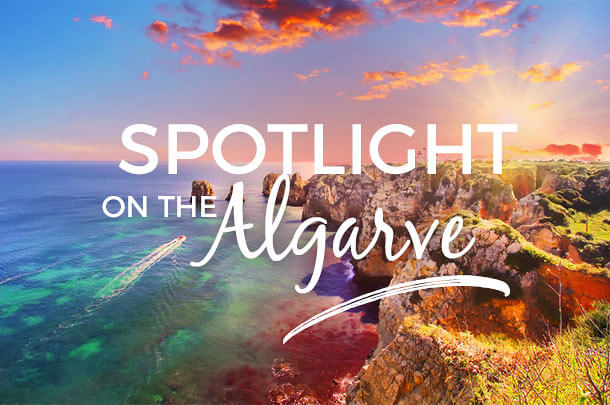 Algarve Villa Holidays

Algarve Villa Holidays
The long beaches and warm weather make this a firm favourite every year!
Algarve Resorts:
Caramujeira - Vidamar Algarve Resort - Quinta do Lago - Santo Antonio Resort - Amendoeira Golf Resort - Vilamoura - Vale do Lobo - Pine Cliffs Resort - Armacao de Pera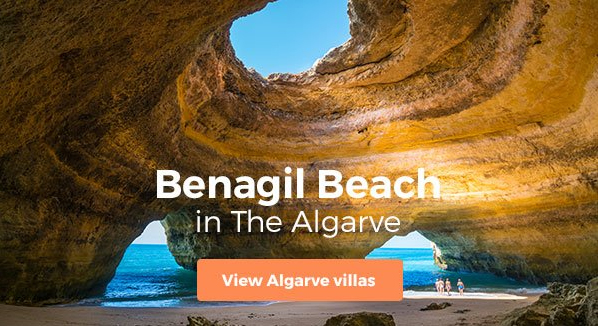 This sandy spot showcases the Algarve's natural beauty at its finest. Explore this unique beach by boat or paddleboard, the choice is yours!
Exploring Portugal...
Situated at the western end of Iberia where the land ends and the sea begins, Portugal has so much to offer: a dramatic shoreline of stunningly unspoilt beaches, quaint fishing villages, medieval walled towns, castles galore, vineyards producing exquisite local wines and charming people from whom a warm welcome can always be assured. The two regions we feature offer distinct landscapes and their own unique personalities.
THE BEACHES OF PORTUGAL
With more than 830 kilometers of coastline, Portugal has many stunning shores to explore. Famous for its stunning beach locations, the golden sands and crystal blue waters don't get much better than the heart of Portugal. From the Praia De Moledo to Praia de Cordoama, explore our top 10 picks of the best beaches in Portugal for you to discover on your next holiday to sunny Portugal.
THE WINERIES OF PORTUGAL
Being such a productive wine-growing region, you don't have to travel far in the Algarve before you come across a winery, surrounded by flourishing vineyards.
THE DELICACIES OF PORTUGAL
What about the cuisine, though? Portuguese food is something else and should be sufficient motivation to go on holiday to Portugal. The following are some of the foods that you must try, whether you visit an authentic restaurant and have it cooked for you, or you give it a go yourself in your Vintage Holiday villa.
OUR VILLAS IN PORTUGAL
A wander along the white sands of the Valencian coastline will frequently be accompanied by the heady scent of orange blossom, which emanates from the abundant groves that hug the shoreline. At the same time, the region's world-famous paellas simmer gently alongside the catch of the day in shady 'chiringuitos' to tempt the hungry onlookers.