Kefalonia Villa Rental Holidays 2023/2024

Kephalonia is the largest of the seven Ionian Islands. The highest point of the island is Mount Enos which rises to 1627m (5338ft). It has one of the least spoilt environments and some of the best beaches in the Ionian Islands. The south is dominated by Mount Enos, this is bordered by the Livathro Plain. To the west of the island is the Palliki Peninsula and the north coast is fringed by dramatic cliffs.
Featured Villas

VILLA HERA, SVORONATA, KEFALONIA
Sleeps 8
Nestled on the outskirts of Svoronata within a coastal, countryside location, this delightful property is set amongst beautifully well kept gardens and a large lawn area that surrounds the swimming pool.
Kefalonia Villas
Superb beaches, tranquil waterside towns and rolling countryside – Kefalonia's landscape is dazzling and diverse. With villas peppered along its coastline, you're never far away from sun, sand and sea. So for a relaxing Greek getaway, Kefalonia might just win you over.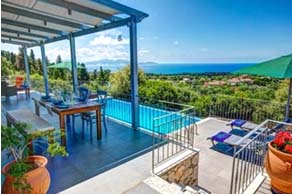 NORTHERN KEFALONIA
Sleeps up to 4

Equally appealing in aspect, style and quality as sister properties Aeletta and Rosepetra, Aelia offers enviable standards of comfort and convenience. Laid back, relaxing and with lovely sea views these are predominantly rural environs yet, at the same time, only 580m from the amenities of sleepy Maganos.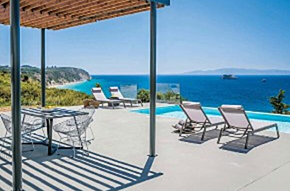 Amazing sea views greet the guests from every angle in these three wonderful villas, perched above beautiful Avithos beach. This splendid stretch of sandy beach has a couple of beachfront tavernas a twenty minute walk away, so the car can stay put and the stroll will work up an appetite!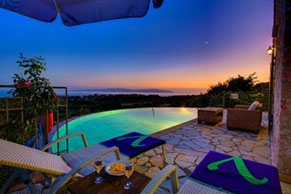 KEFALONIA
Sleeps up to 4
2 Bedrooms | 2 Bathrooms

The semi-circular pool at Aloni reflects the history of the original site as a Thresher's circle.
TRAPEZAKI, KEFALONIA
sleeps 6
Stunning sea views are just one of the charming features of Georgia villa, and a great location with a couple of tavernas and a mini market a 15 minute walk away is another. This delightful, comfortable villa comes highly recommended situated within the pretty, verdant valley of Trapezaki. 
Kefalonia Resorts
Kefalonia Villa Holidays