Villa Klio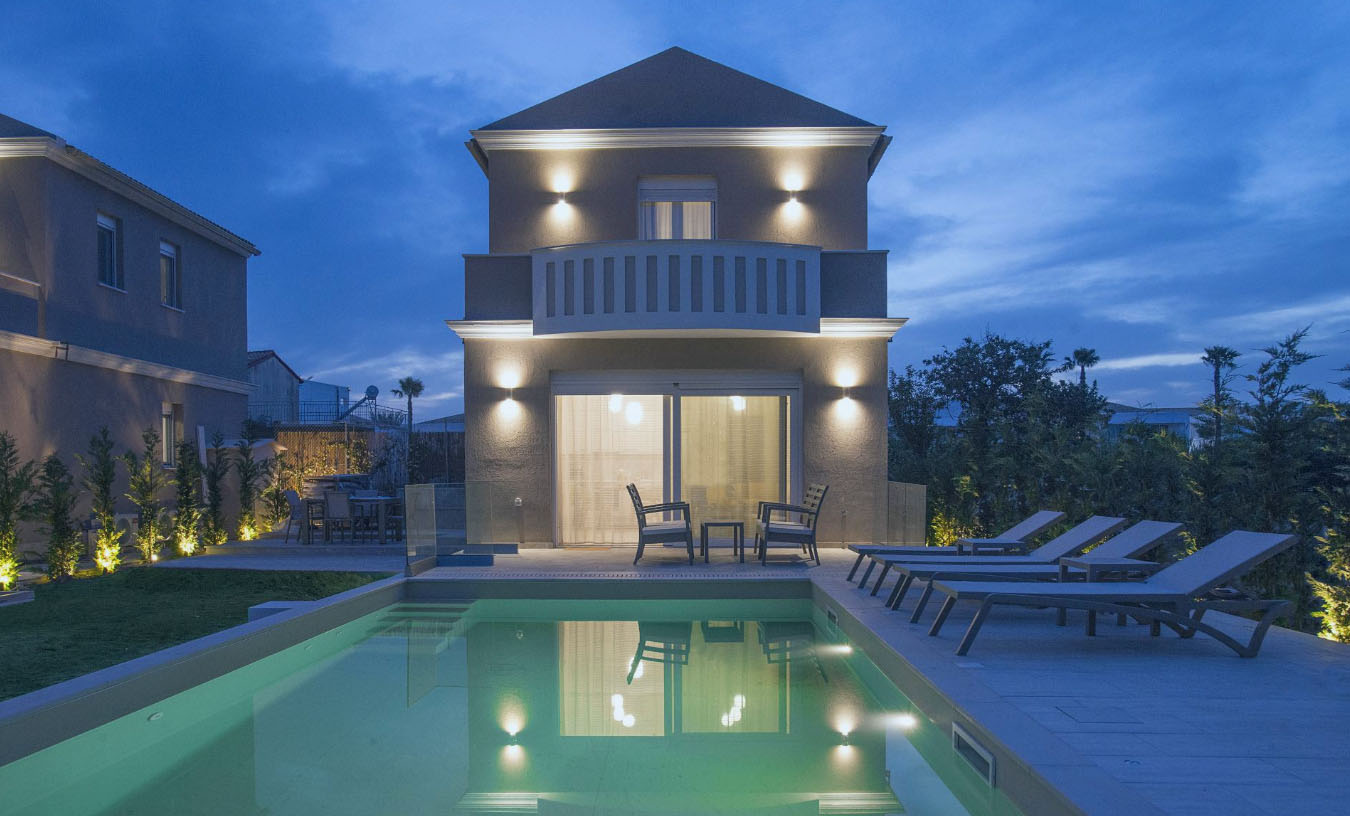 Corfu 
Newly constructed, very comfortably appointed and within easy walking distance of restaurants, good amenities and the wonderful family-friendly beach of Saint George, we are truly delighted to add to our programme Klio, along with immediately adjacent sister properties Erato (also available for 2022 bookings) and Thalia (currently under construction for 2023 bookings).
Tucked away close together at the end of a short unmade track, having the beach and lively resort of Agios Georgios so close at hand makes this location convenience itself – so much so that many will consider hiring a car to be completely unnecessary. Minimarkets, coffee shops, bars and tavernas (the nearest only 60m away) line the coastal lane that runs through the centre of town and are all just a short stroll from your front door.

Only 100m away, the magnificent sandy beach of Saint George Argyrades stretches for over 9km bordering with the equally lovely beaches of Issos to the north and Marathia to the south. Bisected by a small harbour in the middle, the predominantly sandy shoreline shelves gently into clear, translucent waters. Various water sports including boat hire, jet skis and scuba diving are regularly available over the main season and there are sunbeds and umbrellas for rental on the stretch of beach nearest the town.

The unspoilt countryside and glorious beaches of southwest Corfu are widely considered to be some of Corfu's best kept secrets with some lovely walks to enjoy along the coastline, inland amongst the olive groves and cedar trees or around easy-going little towns such as Argyrades (5km) and Perivoli (9km). Rich in local flora and fauna, particularly birdlife, the protected nature reserve of Lake Korission (6.5km) is another very restful place for a stroll while the sweeping, dune-backed beach of Halikounas (13.5km), part of which fringes the western edge of the lake, is well known for kite surfing... as well as fresh sardines at the very laid-back beach shack!